Sand Mold 3D Printer-Sandstorm S2000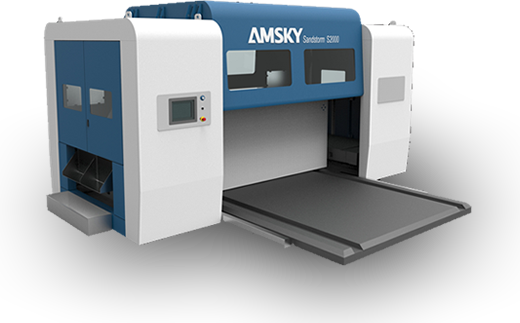 Technical Specifications


Job Box Volume (L×W×H mm)

Limit Size:2000×1000×800

Layer Thickness

0.3-0.5mm

Build Speed

95-130L/h (0.3mm per layer)

Resolutions

400DPI、800DPI

Motion Control Precision

±3μm

Product Accuracy

≤400mm时;±0.3mm

>400mm时;±0.1% (max.)

Max.Instantaneous Consumption

28KW,3-phase-5-wire

Normal Energy Consumption

4-6.5KW

Consumables

Sand/Resin/Curing agent

Sand Preparation Center

Auto sand preparation + used sand recycling

Structure Type

Castiron frame + linear motor + raster ruler

Standard Job Box

Double job boxes

Size of Main Device(m)

5.2*6.3*2.8

Total Size(m)

12*7*6 (include sand preparation center,electronic control cabinet and main device)

Operating Environment

20℃~35℃

Operating Humidity

45~60%

Customization Supported

Yes

3D printer Technical Advantages
Sandstorm S2000 3D printer, including its backbone hardware, mechanical design, drive
program and host system, is totally developed and produced by AMSKY. We hold the key
technology of sand mold 3D printing.


A Maximum of 130L/h Build Speed(0.3mm Layer Thickenss) Supported

Product accuracy being ±3mm when printing ≤400mm product at the speed of 95-130L/h and ±0.1% when printing >400mm
product,as well as the time for completing one job box being controlled within 12-14.5 hours,the performance achieves the top
level of international sand mold 3D printer,and the sanding speed is higher than any product of the same model.
±3μm Motion Control Precision
With the combination of linear motor and raster ruler, the precision of raster ruler reaches up to 1μm, improving the operation
reliability, speed and precision and reducing the volume of device.
Castiron Frame
With castiron frame adopted, the structural stability and reliability are improved to a new level, which reaches the general requirements
of machine tool.

Double Job Boxes Working 24h a Day
With standard double job boxes equipped, continuous printing achieved - one job box sand clearing is being processed while another one has already been working, 24 hours a day.

Fully Automatic Sand Preparation
After manually loading the sand into sand tank for the first time, all of the remaining works, including sand mixing and feeding etc. shall
be automatically operated without any human intervention.

Tailor Made for Customer
To satisfy different printing requirements, the quantity of print head, resolutions and size of ink droplet are tailor made for customer.